ERP systems are now an ultimate necessity for any business. However, there are two choices in it. One is the cloud and the other is on-premise. Both have the same purpose, but the cloud is a host server that can be accessed through a web browser and on-premise is present on the system and servers of the company.
Right now, DHRP is here assisting organisations to implement both systems as per their requirement. And for now, we will talk about the cloud infrastructure in Dynamics 365.
How the cloud in Dynamics 365 is helping businesses?
Microsoft Azure
Microsoft Azure is to develop and deploy on-demand application-based solutions for your clients. With cloud computing, organisations can have more storage capacity with all data hosted by Microsoft's data centers.
Office 365
Microsoft office 365 is the collaboration tool that contains the Microsoft Exchange Online, Microsoft SharePoint Online and Microsoft Teams. It is for all business types and sizes. Also, it is empowering businesses with automation, marketing, sales and talent to enhance their overall performance. Organisations can access the documents, calendars, email from anywhere at any time. DHRP can help you in estimating your needs for it and further for implementation of it.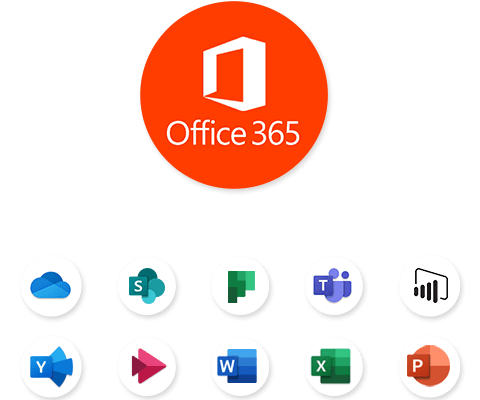 Windows 10
Windows 10 is about more security and more power to your system. It is known for versatility, speed, touchscreen, and gaming. So, you can have better graphics and new technology for better performance.
Modern Applications
Modern applications are a way to offer personalised and effective business connected apps. It will help you more with the accessibility of the information and keeping the record of everything at a safe place.
Azure migration
Azure migration offers you more tools for planning and tracking the migration. So, with the strategies by DHRP, you can carry the digital transformation process of the business with more cost savings and efficiencies in processes. Get the Azure migration consultant and they will guide you to use azure database migration service. And remember that Microsoft azure migration service offers real-time solutions for moving SQL databases to the cloud.
Office 365 migration
Office 365 migration services are a simple yet complicated process. Overall, it will need a consultant and an expert to help you go through the process. It has certain types including staged migration, cutover migration, hybrid migration, IMAP migration.
All of the types fulfill the needs of business in a different way. However, a consultant from the DHRP can help you determine the solution you need and they will take the burden of implementing the system without any mishandles and obstacles coming your way.
Windows 10 Migration
You can choose the custom installation of upgradation. The migration process may not be easy for you, but the PCmover express tool helps in transferring the files and folders from the current system to the new without any problems. And for more help from experts, you have DHRP by your side.
DHRP is catering to all of your business needs regarding the Microsoft cloud computing and migration process. We have experts and consultants working their best to provide you guidance throughout the process. Moreover, we cater to all the services from Microsoft dynamics 365 clouds to the Microsoft Dynamics CRM cloud. Whether you require implementation or guidance to utilize the product with efficiency and at low costs.