If you're in charge of communicating with multiple groups of employees in your company, you'll need a good collection of tools to make it as painless as possible.
If you have SharePoint (or Office 365) access, there are numerous tools that you may use to enhance your internal communications strategy.
Importance of Internal and Employee Communications
These are the foundation of any successful business, supporting everything from operations to change. They increase employee engagement, which positively impacts team performance, retention, and overall morale. It's easy to see why it should be a top priority for any firm.
Why Use SharePoint for Internal Communications
SharePoint is scalable, flexible, and in many cases, already present in your organization. It only takes a basic understanding of what is possible to reap significant benefits for your communication strategy.
So, to begin fine-tuning your strategy, here is a list of effective ways to improve your Internal Communications by utilizing existing SharePoint features. We will also explore some of the other Office 365 services that can be accessed through SharePoint.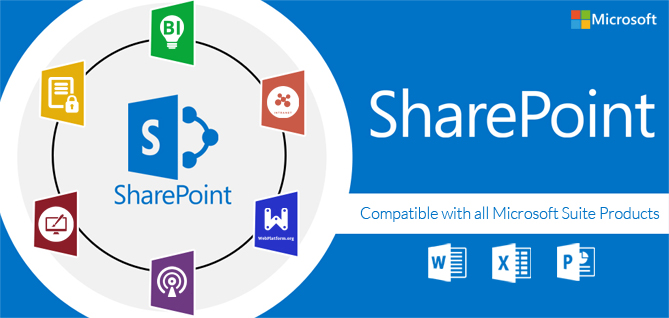 We Make sure to understand your SharePoint intranet's purpose is. Because there is so much to choose from, it is critical to know exactly what you want to get out of it. Consider the end-users: who will be accessing your SharePoint on a daily basis, and what are their needs?
SharePoint is made up of several different parts and functionalities that cater to various business needs. You may discover that not all of the materials are appropriate for your company at first. Don't feel obligated to adopt everything at once; instead, consider intelligently and hand-pick parts that will benefit your company.
Determine which SharePoint features you want to use and which Microsoft or third-party apps you want to integrate, such as OneDrive and Outlook.
User-testing is a good technique to make sure you're building processes that will work for everyone in your company.
Use the information about the intended functionality and design that you gathered throughout the planning step. Collaborate with a technology team to make platform architectural decisions and produce your technical specification. Consider the functionality, personalization, and data types you want to use, and then start connecting your apps.
Deploy SharePoint and migrate content to create the intranet. It's now time to fine-tune any design options, add users and administrators, and make your SharePoint intranet as user-friendly as possible. The most effective SharePoint intranets will be functional and simple to use, and completely appropriate for their intended purpose. Take your time with this.
When you're satisfied, you can begin migrating content. Examine automated migration techniques to save time and resources while still ensuring that someone is in charge of your SharePoint's operations.
Sharepoint Intranet Example
Wells Fargo Microservices Intranet
The world-famous bank and financial services company recently updated its intranet with SharePoint. It implemented a site architecture that prioritizes a single line of business or microservice.
As you can see, this site is designed specifically for the marketing department. Employees can use the drop-down choices at the top of the page to learn more about the company, services and support, compensation and benefits, management, and marketing.
Employees may stay up to date on any essential Wells Fargo news and press mentions by visiting the news and press site.
Another feature worth mentioning is the widget, which shows time-sensitive events, tasks, and conversations that an employee must attend to.
Take your time and take a measured, strategic approach when planning your SharePoint intranet. The ideal efficient intranet would be up and running quickly, with little platform adjustments required after deployment. Nothing is worse than having to go back and select work layers!
If you're not sure where to start, or if you just want some advice about your strategy – DHRP has a team of Microsoft SharePoint experts. 
You consent to the processing of your personal data by clicking on the button. Terms of Use